Salman Khan is Himesh Reshammiya's mentor who gave him his first break as composer in bollywood with Pyaar Kiya Toh Darna Kya (1998).
Salman had said about Himesh - the pre ABA composer that 'himesh nahi bolta hai, himesh ka kaam bolta hai'. This is true, especially given da fact that working with Sallu mia gets da best out of Himesh.
Salman ka Himesh aur unke fans ke upar Karzzzz hai, and since Himesh hasn't ever worked with the other 2 Khans i.e. Aamir and SRK, it is always a trump card and bhramashastra for Himesh bhai to be tightly knit with Sallu mia and his entire parivaar which he is.
Himesh-Salman jodi rwaks and hope that they deliver many more chartbusters in da time to come.
Seeing Sallu Mia doing his thing on Himesh's tunes gives SIKE / JAZBA to da viewer, jaise ke ZEHEN ME JOSH BHAR DETE HAIN and / or also an OVER WHELMING FEELING, jaise ke DIL BHAR AAYA HAI.
The best album of Himesh-Salman Khan jodi is Yeh Hai Jalwa (2002), which has a historic theme piece 'Jalwa...Yeaaa...Jalwa' used in many songs of album, and this theme piece is one of best ever typical unique HR melody pieces in pre ABA era.
Here are some of da ultimate few that give this feeling:
Sallu's dance moves from 1.52 to 2.16 on one of best ever typical unique HR melodies are SIKE GIVING.
His traditional hip hop step from 3.33 t0 3.37 on heavy profound drum skips is great, followed by throw of herione's chunni from 3.41 to 3.43, waah kya andaaz hai!
His close up with shades in 2nd stanza from 3.46 to 4.05 strikes a chord.
His super kool wacky dance moves from 0.14 to 0.32
His smiling facial expression on lines MAAN JA DILBAR from 2.59 to 3.03, waah kya aadayein hai!
His FULLTU ATTITUDE DEDE TU ZARA from 4.29 to 4.34
His 'boy next door' innocent maasoom look from 4.51 to 4.55 on history sitar piece that catches classical pulse of listener.
Sallu's antics in da stanzas blow away da viewer.
His maasoom innocent look from 1.59 to 2.08 in 1st stanza.
How he expresses his inner self 3.11 to 4.11 in presence of Preity Zinta's painting.
His facial expression when he realizes something is wrong as he sees his lover's reflection and then walks off in his true macho style from 4.07 to 4.22
One word to describe da proceedings in this song (which is Himesh's best composed only sad song, along with Tere Naam Sad) is 'khatarnaak'.
The part from 2.59 to 3.17 where Radhe's family come to feed him by their very own hands and can't control their grief at his situation is heart-breaking and shattering.
Sallu Mia doing his typical antics on Himesh's best 'composed only' song in SHAADI / CELEBRATION genre.
Anlog with his funky wacky dance moves that shocases him as a superstar on stage, what stands out is that amongst all da madness of celebration, when he notices that his sister is crying at the time of bidaai, Sallu mia shows his emotional side with his facial expressions from 4.31 to 4.44 on lines RAB SE HAI YEH DUA KHUSH RAHE TU SADA and re-assuring her that all will be well.
And how about his cheeky smile from 4.45 to 4.47 full of masti bhari shaarat.
Off-da-hook wicked funky guitar riffs from start to 0.01 mark Sallu mia's 'dhansu' entry.
Arya's emphasis vocals BODYGUARD from 0.02 to 0.03 along with Salman's slow-motion camera rotational view close-up in dark shades STRIKES A CHORD.
The peppy rhythmic southern-styled part from 0.10 to 0.47 is tailor made for Sallu's typical antics.
Arya's emphasis vocals BODYGUARD from 1.28 to 1.38 along with Salman's slow-motion camera rotational view close-up in dark shades STRIKES A CHORD.
The BEST part are female vocals lines BAS TUMHARA THA INTEZAAR and male band of power CATCHY vocals AAYA RE AAYA BODYGUARD along with da rwakin DOGGY ISHTYLE dance from 1.13 to 1.21 that MAKE AN IMPACT, get da listener/viewer into da zone and give HELL LOT OF SIKE / JAZBA.
Arya's emphasis vocals BODYGUARD from 1.28 to 1.38 along with Salman's slow-motion camera rotational view close-up in dark shades STRIKES A CHORD.
This song shows the 'sensitive' side of Salman, especially from start to 0.11, when he wipes his tears after he is consoled and puts on a fake smile to signify that he is ok and in control of his emotions.
The original version is da ultimate Himesh 'father-son' relationship song. The sad version is a Himesh-Salman klassik. Rishi Kapoor thinks that Salman Khan is following him not outta emotional attachment but purely out of commercial interests i.e. money, as Rishi is a rich tycoon abroad. As they say, blood is thicker than water, but sometimes its sad that relationships have to be proved too i.e. unka saboot dena padta hai. So this heart-touching sad version comes in that part of da film which demands da ultimate test of life.
Kick vs Bodyguard

> Aaya Re Aaya Bodyguard is better than Jumme Ki Raat Hai
> Tu Hi Tu Har Jagah is better than Teri Meri Prem Kahaani

so both albums are kind of even as a whole / in totality vs each other, excluding remixes and different versions.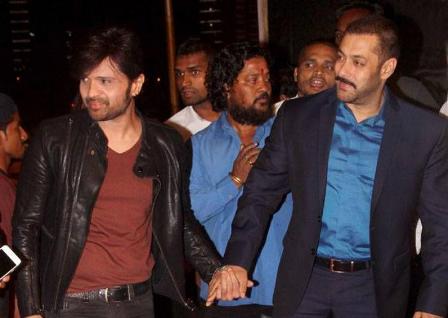 hoping that Himesh - Salman jodi ka bandhan hamesha atoot rahe and that they keep on giving hits and creating records together in future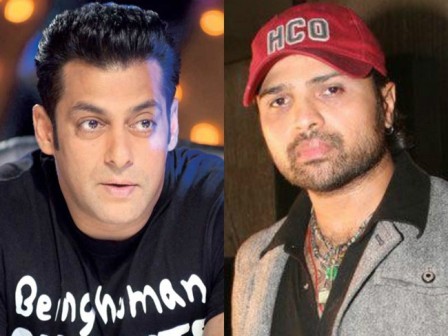 superhit jodi, chartbuster gaane